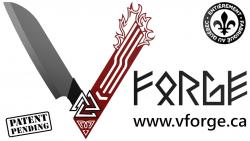 99VF-101 - V-FORGE - Stainless steel portable grill
V-Forge
is a portable grill that offers the possibility of cooking with both dry wood and charcoal.
Whether at home, for hiking, fishing, camping or any other outdoor activity,
V-Forge
will be the best grill for you!
Being the only grill on the market to reach a temperature above 1600 degrees Celsius, rapid cooking over embers sears food, which preserves tenderness and juiciness.
With the fireplace that provides reverse air cooking, this allows you to play on the desired temperature depending on the food being cooked. The absence of flame on the food therefore avoids a bitter and undesirable taste of carbon. In addition to cooking with charcoal, it is just as possible to use it for hot smoking.
With an interlocking principle requiring NO hardware or tools,
V-Forge
is a grill that can be assembled and disassembled in just a few minutes.
V-Forge
is a product
designed and manufactured entirely in Quebec
. It is made of
100% food grade stainless steel
. This quality of metals is therefore extremely resistant to corrosion and heat.
With
V-Forge
your meals will never taste the same again, you will be able to achieve unique taste and consistent cooking results.
Assembled size:
*Front view
Width: 322mm (13.14in)
Depth: 468mm (18.43in)
Height: 820.7mm (32.31in)